Hangzhou Hangguo Industrial Boiler Co., Ltd. is a high-tech enterprise specialized in the R&D, manufacturing, sale, installation and EPC contracting of HRSG, power plant boiler, industrial boiler and pressure vessels. The Company was established in April 1978, its predecessor was No. 1 Branch of Hangzhou Boiler Factory, and now it is a holding subsidiary of XIZICE (Former Name: Hangzhou Boiler Group Co., Ltd.) . The company has registered capital of 50 million yuan, covering an area of about 148 mu, with total assets of more than RMB 700 million yuan.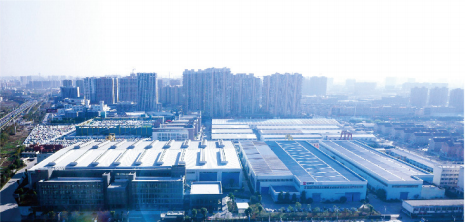 The company was certified as a "high-tech enterprise" in the first batch of Zhejiang Province, and has a provincial level high-tech enterprise research and development center of Zhejiang Province. The company holds Class A boiler manufacturing license, the highest in the industry of China, and the ASME "S" and "U" steel stamps and authorization certificate of the United States, it has obtained the Wantai ISO 9001 certification and passed the Level III standard for work safety, awarded with over 10 technical patents and has made six first set of products in China.
The company always takes technological innovation and quality service as its core competitiveness. Through the research and development activities of industry-university-research cooperation, the company successfully developed low-temperature HRSG, industrial waste gas boilers for such as blast furnace gas, coke oven tail gas and carbon black tail gas and biomass boiler used in cement, metallurgy, petrochemical and other industries, all with high technological contents. Among them: the cement kiln HRSG is the first pure low temperature HRSG designed and successfully operated in China, with intellectual property rights owned by the company. It has achieved good social and economic benefits after being marketed, and has been widely praised and recognized on the market. The company's fist products always take the highest share on the domestic market, and are exported to Japan, Korea, Brazil, India, Turkey, Pakistan, Indonesia, Thailand, Cambodia, Malaysia and Vietnam, and more international markets are being opened.
Adhering to the quality policy of "quality first, customer satisfaction", the company has established a perfect product quality management system and corresponding system documents, and maintained its normal and effective operation, to ensures that the safety, reliability and applicability of all the designed and manufactured boiler products meet the standard requirements, with good quality. With the enterprise spirit of "unity, hard work and pursuit for the best", all employees of the company constantly explore and make efforts for innovation, to provide customers with more products and services exceeding their expectations.