It is a specialized Company engaged in the development, completion and engineering construction of municipal wastes incineration technology and equipment. It was established in 2000 with the joint investment by XIZICE (Former Name: Hangzhou Boiler Group Co., Ltd., stock code "002534") and Hangzhou Financial Investment Group Co., Ltd. With registered capital of ¥66.66 million yuan, the company now has total assets of nearly ¥400 million yuan, and is an enterprise with "AAA" credit standing as certified by the Hangzhou Municipal Government.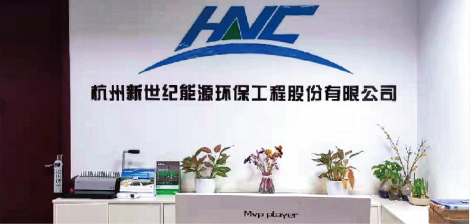 In the tenet of being "realistic, innovative, lean and efficient", the company takes improving the environment, energy conservation and emission reduction as its mission, implements the technology leading and independent innovation development strategy, actively develops core technologies for wastes incineration and disposal, and endeavors to upgrading the level of wastes incineration and disposal technologies and equipment of China. The company has undertaken numbers of national level scientific research projects, and has an enterprise technology center of Hangzhou City. It has become a pacesetter in the field of waste incineration technology and equipment research and development in China, and certified as a key high-tech enterprise in National Torch Program, a backup entity for major environmental protection technical equipment encouraged by the state, and is a pilot innovation-oriented enterprise and a pilot patent enterprise of Hangzhou City.

The company possesses intellectual property rights for over ten core technologies in waste incineration, its leading products - II-segment reciprocating municipal waste incinerator with adjustable material layer and semi-dry flue gas cleaning system with independent humidity regulation feature very high cost performance, recommended by the Ministry of Science and Technology as major scientific and technological achievements in the 11th Five-Year Plan, and awarded with second prize of science and technology progress of Zhejiang Province and China Machinery Industry Federation, and third prize of Huaxia Construction Science and Technology and science and technology progress of the Ministry of Environmental Protection, and named as environmental-friendly technical products, listed in the key new products of the state and National Torch Program.
The company has been innovating in key technologies such as waste burning method, waste incineration grate, flue gas treatment and dioxin elimination, and in the aspects of large-scale, serialization and modularization of products, obtaining remarkable achievements in more than a decade. The waste incineration and flue gas treatment equipment sold by the company feature high efficiency, no pollution, high capacity reduction, strong overload capacity, stable operation, easy installation and maintenance, and the environmental protection and energy saving treatment technologies are at the advanced level domestically and has met international advanced standards, highly appreciated by users in domestic and overseas, and the company has grown into the largest domestic-made grate type waste incineration Supplier in China.
The company has passed ISO9001, ISO14001 and OHSAS18001 management system certification. With its own strong technical strength and scientific and effective management system, and by making centralized use and bringing into full play the rights and advantages of shareholders in proprietary technologies, capital, talents and market, it will endeavor to provide the domestic and overseas users with high-quality services:
- Supply of waste incinerators, flue gas treatment system technology and equipment;
- Complete set of equipment for waste incineration plant;
- EPC contracting and project management for waste incineration plant;
- Basic design and consultancy for waste incineration plant;
- Training of waste incineration plant operation and management personnel